Thursday, the 28th of September 2023 on Twitter, Sidebrief hosted the organizers of the MEST
African challenge and past winners for details and information to look out for when applying for the challenge that has a staked amount of $50,000.This initiative is in line with our commitment to ensure that entrepreneurs across emerging markets have access to the relevant resources they need to thrive.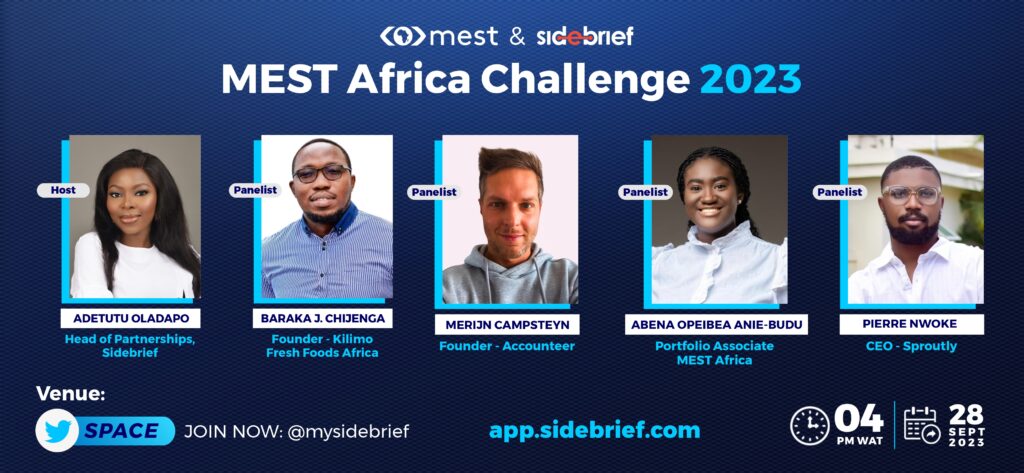 MEST Africa was founded in Ghana in 2008 by serial entrepreneur Jorn Lyseggen. The Pan- African software and entrepreneurship training program, seed fund and incubator helps launch
technology start-ups across the continents. The goal is to equip the continent's most promising
tech entrepreneurs with the skills required to launch and scale globally successful software
companies.

Every year, aspiring entrepreneurs with a strong interest in technology and entrepreneurship from across Africa apply and compete for 60 open spots at the fully sponsored 1- year training program in Accra, Ghana where they receive access to intensive training, expert mentorship, and the largest network of tech startups in the continents. 
The Twitter space had the portfolio associate of MEST, Abena Opeibea Anie-Budu, Pierre Nwoke , CEO of Sproutly , Merijn Campsteer, founder of Accounteer and Baraka.J. Chijenga , the founder of Kilimo fresh & the 2020 winner of the MEST Africa challenge as guests and it was an insightful session. The panelists offered valuable insights regarding the application and review process, along with specific tips on how an applicant's pitch can stand out.
These tips encompassed aspects such as the strength of the team, the nature of the problem
being addressed, the proposed solutions, and the reasons why this venture is significant and
timely. They encouraged aspiring participants to present themselves in the best possible light, emphasizing the importance of refining their presentations. During the discussion, questions were raised about the challenges that startups in Africa encounter. Baraka, a previous competition winner, passionately shared his thoughts on the reasons behind investors' reluctance to invest in African businesses, elaborating on the how'sand why's of this issue. He however encouraged entrepreneurs to be resilient. The panelists encouraged aspiring contenders to put their best foot forward and strive to finesse their presentation and wished them luck.

Sidebrief is dedicated to bringing to light the best opportunities for startups around the globe and
here is one of the biggest tech opportunities for the year 2023. Your entry Is all they are waiting for, and the application closes on the 9th of October 2023.

Click here to apply.


Sidebrief
Sidebrief is a RegTech startup that makes business registration and compliance easy for founders, entrepreneurs, and business owners across Africa by removing lengthy paperwork, complexity, and hidden fees. We provide the tools for founders to start and scale businesses across borders from a single interface. Simply sign up to get started to take advantage of exclusive discounts and pricing. For further information, contact us at marketing@sidebrief.com