The 6th edition of the Ecobank Fintech Challenge presents a remarkable opportunity for startups to showcase their ideas, gain mentorship, and access potential investment opportunities. The Challenge is open to both early-stage and later-stage Fintech startups in Africa and the goal of Ecobank is to contribute to their growth as potential Pan African Fintech success stories.
The ultimate winner of the 6th edition will be awarded a $50,000 cash prize and be inducted into the Ecobank Fintech Fellowship, which allows entrepreneurs the opportunity to explore deals, multinational product rollout, integration, access to partner networks, and commercial partnership with the Ecobank Group.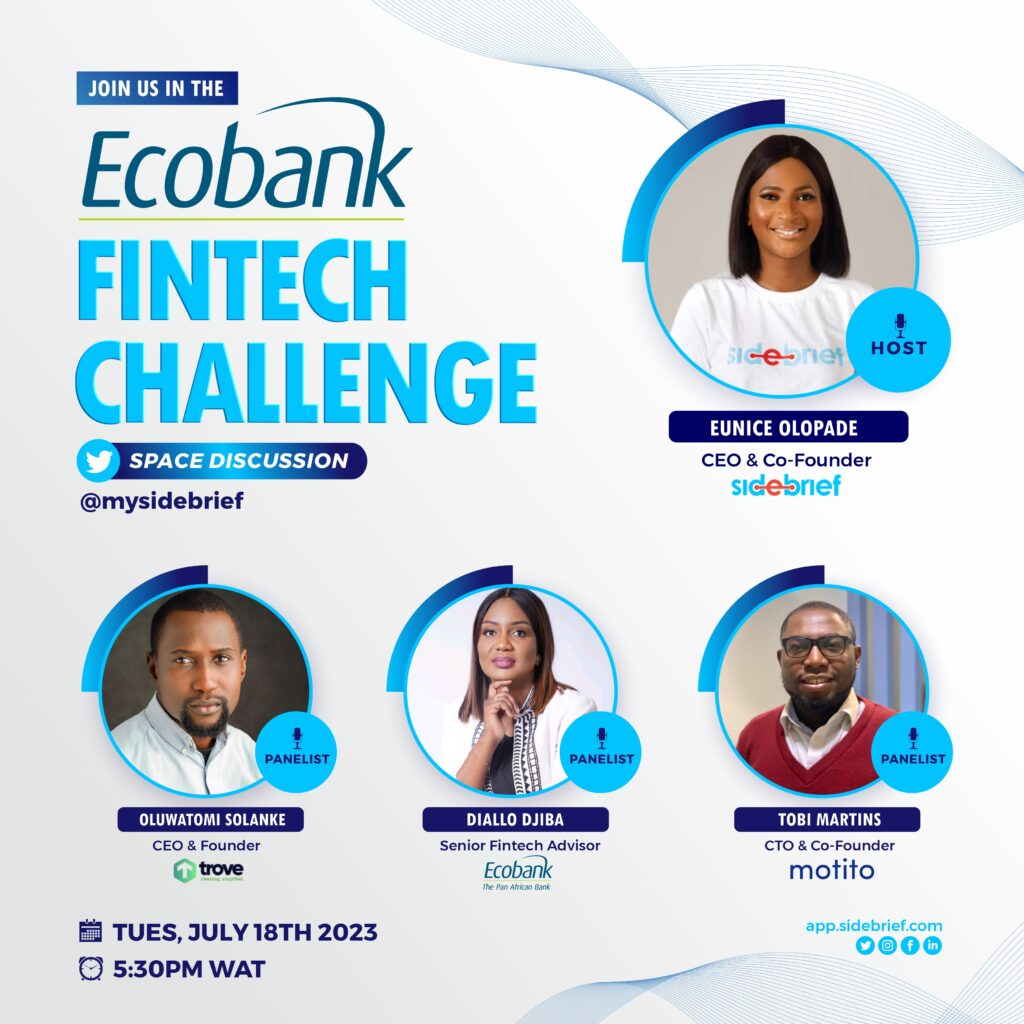 Speaking on a Twitter space hosted by Sidebrief, our guests, Djiba Diallo, Senior Fintech Advisor at Ecobank, Oluwatomi Solanke the winner of the 4th edition, Ecobank Fintech Challenge, Tobi Martins the 2nd runner up, 4th edition Ecobank Fintech Challenge all provided valuable insights into the application process, review processes, and how to increase your chances of being shortlisted.
Eunice Olopade (Sidebrief) discusses the 6th edition of the Ecobank Fintech Challenge with Diallo Djiba (Ecobank), Oluwatomi Solanke (Trove Finance), and Tobi Martins (Motito)
What is the strategy behind Ecobank's Partnership with Fintech?
"There is a strong demand in Africa, not just in mobile technology, but also in applying finance to technology. Consequently, we have made the strategic decision to see Fintech as a potential partner rather than a competitor. We strongly believe that they play a crucial role in the financial industry due to their ability to adapt to the needs of the population and ensure accessibility for all.

While we possess expertise in security, infrastructure, compliance, and other areas, we acknowledge that Fintech excel in innovation and have a faster pace of progress. Therefore, we believe that partnering with Fintech companies is the right approach. By collaborating, we provide customers with security and Fintech brings the necessary innovation to facilitate easy access to their money."

Diallo Djiba; Senior Fintech Advisor, Ecobank
Fintech partnership with Ecobank?
The bank's fintech challenge is a huge opportunity for fintech startups to collaborate with Ecobank which has a presence in over 33 countries. Finalists and winners also have the opportunity to meet with different banking units and different stakeholders to have conversations on possible collaboration efforts. Founders who have taken part in the challenge have expressed the banks' willingness to help develop their products. They also indicated that these collaboration efforts will be launched to the public very soon.
Sidebrief
Sidebrief is a RegTech startup that makes business registration and compliance easy for founders, entrepreneurs, and business owners across Africa by removing lengthy paperwork, complexity, and hidden fees. We provide the tools for founders to start and scale businesses across borders from a single interface. Simply sign up to get started to take advantage of exclusive discounts and pricing. For further information, contact us at marketing@sidebrief.com