The International Monetary Fund (IMF) predicts that Sub-Saharan Africa will be home to the fastest growing economies. Nigeria, which occupies a total of 923,768 sq. km. in Sub-Saharan Africa off the coast of West Africa, is the largest economy in Africa. With an estimated population of 200 million people and a GDP of more than 40 million naira as of the third quarter of 2021.There is no doubt that doing business in Nigeria is a profitable venture. The IMF predicts that Nigeria's economy is expected to grow by 3.4% by the end of 2022. Hence, there is no better time to start doing business in Nigeria than NOW!
Register a Foreign Owned Company in Nigeria for $350
Email – hello@sidebrief.com Phone – 09018081296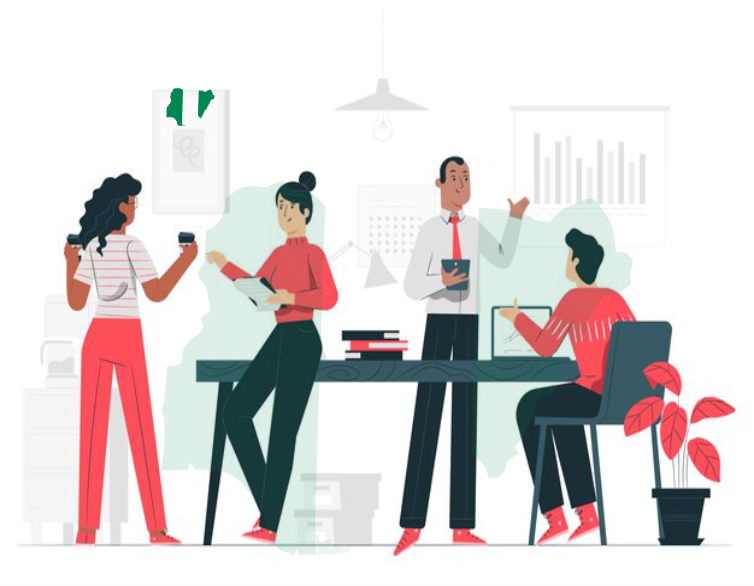 What is the best business to do in Nigeria?
There are various sectors with various categories of products with high revenue generating income that investors can look to invest and start a business in Nigeria. Many of the sectors that investors can look to invest include: Real Estate, Oil and Gas, Agriculture, Transportation, Hotel, Travel Agencies, FinTech, HealthTech etc.
Is it easy to do business in Nigeria?
As at 2019, Nigeria was ranked as one of the 131 country which provides ease, high investment return for business startups and investors. In 2021, Nigerian startups raised an estimate of $1.7 billion which is higher compared to other African countries like Kenya ($54.15million), Egypt ($6 million), Togo ($5 million), Cote d'Ivoire(2.4 million) and Morocco ($540,000), respectively.
Tips to doing business in Nigeria
Be conscious of the different language
The hour of business is usually between 8am to 5pm
Business relationship should be formal and professional
Maintain the same level of formality with your Nigerian counterpart
The management style of doing business is hierarchical
The Nigerian government frowns at bribery and corruption. Avoid it!
Benefits of doing business in Nigeria
It is attractive to investors as the country is the largest investment market in Africa
It provides favorable tax incentives and investment guarantees
Access to land and commercial farmland
Affordable office and residential space
The cost of living is low.
Foreigners doing business in Nigeria
A foreigner who intends to start up a business is required, as a matter of compulsion, to acquire certain permits, licenses and approvals from relevant agencies in Nigeria. The following are some of the initial steps crucial for a foreigner who intends to start up a business in Nigeria:
STEP 1: Incorporation of the Business at the Corporate Affairs Commission (CAC) in accordance with the Companies and Allied Matters Act, CAP C20, 2004.
STEP 2: Registration of Business with the Federal Inland Revenue Service (FIRS) and obtaining a Tax Identification Number.
STEP 3: Registration of the company with Nigerian Investment Promotion Commission (NIPC) for the granting of a business permit NIPC also grants approval for expatriate quota positions and incentives.
STEP 4: Importation of capital through an Authorized Dealer, i.e. Approved Bank and obtain certificate of capital importation issued by Central Bank Nigeria.
STEP 5: Apply to the Securities and Exchange Commission (SEC) for registration of interest of foreigners in the shares of the company.
STEP 6: Obtain relevant permits from the relevant specialized regulatory agencies depending on the sector of the company.
STEP 7: Apply to obtain relevant incentives and reliefs available for foreign investors in Nigeria.
In addition to the above, it is important to note that foreigners must also have permission to work and live in Nigeria. This is in contrast to tourist or business visas, which can only be used for initial entry into Nigeria. A company seeking to employ foreigners must apply for Expatriate Quota Approvals which will be used to obtain a Subject to Regularization Visa at a Nigerian consulate abroad. On arrival, such an expatriate must regularize his stay by applying for a Nigerian residency and work permit, otherwise known as a Combined Expatriate Residence Permit and Aliens Card (CERPAC), within 3 months.
Though Nigeria is a welcome haven for both local and foreign investors, doing business in Nigeria comes with certain (regulatory) challenges just like any economy in the world. These challenges are, however, not insurmountable.
Sidebrief
Sidebrief is a RegTech startup that makes business registration and compliance easy for founders, entrepreneurs, and business owners across Africa by removing lengthy paperwork, complexity, and hidden fees. We provide the tools for founders to start and scale businesses across borders from a single interface.
Email – hello@sidebrief.com
Phone – 09018081296