The International Monetary Finance (IMF) predicts that Sub-Saharan Africa will be home to the fastest growing Economies. Nigeria which occupies a total of 923,768 sq. km. in Sub-Saharan Africa off the Coast of West Africa is the largest economy in Africa. With an estimated population of 200Million and a GDP of $376.284bn there is no doubt that doing business in Nigeria is a profitable venture. The IMF predicts that Nigeria's economy expected to grow by 2.0 and 2.2 percent in 2019 and 2020 respectively hence there is no better time to start that business in Nigeria than NOW!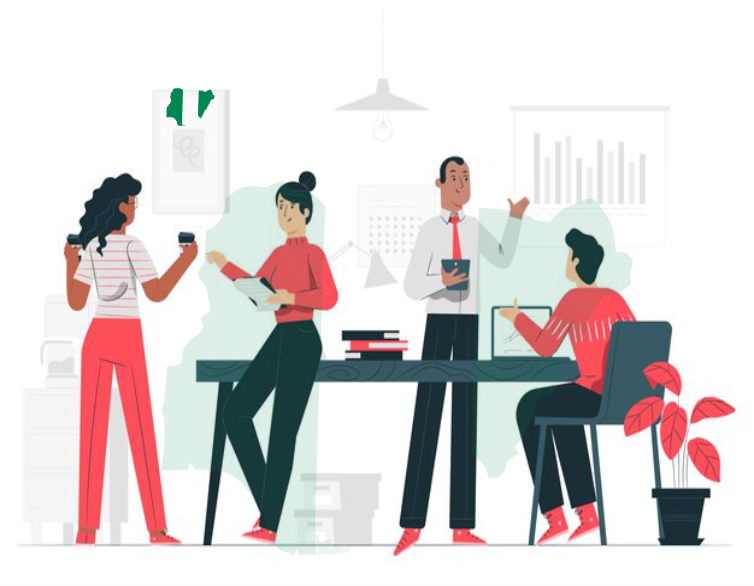 Although the Nigerian market is an enticing one and several companies make millions in profit annually, there is a lot that can be done as regards the ease of doing business in Nigeria. The Nigerian Government has however been on top of this to ensure the business environment is more conducive for local players and foreign entrants. There has been several ease of doing business initiatives developed by the Federal Government in a bid to make things better and open the country up to both local and foreign investment.
The establishment of the Presidential Enabling Business Environment Council (PEBEC), an Executive Order on improving Transparency, 60 Day National Action Plan (NAP 3.0) to drive the Ease of doing Business Initiative, Micro, Small and Medium Scale Enterprises registration window amongst others are laudable initiatives employed by the Federal Government. The result being an improvement in Nigeria's position on the World Bank Doing Business rankings from 169 in 2017 to 145 in 2019 within the last 2years.
When starting a business in Nigeria, potential business owners have to interface with several regulatory authorities to obtain necessary permits, approvals and licenses. There are certain general regulatory authorities such as the Corporate Affairs Commission, the authority in charge of the registration and operation of Business in Nigeria, Federal Inland Revenue Service, the authority in charge of all Federal Taxes, Nigerian Investment Promotion Council, the agency in charge of coordinating investments in Nigeria.
There are also several specialized agencies which would depend on the business sector. These include but are not limited to the National Agency for Food and Drugs Administration and Control, Department of Petroleum Resources, National Office for Technology Acquisition and Promotions, Standards Organization of Nigeria, Trademark Registry, among others
Foreigners Doing Business in Nigeria
A foreigner who intends to start up a business is required, as a matter of compulsion, to acquire certain permits, licenses and approvals from relevant agencies in Nigeria. The following are some of the initial steps crucial for a foreigner who intends to start up a business in Nigeria:
STEP 1: Incorporation of the Business at the Corporate Affairs Commission (CAC) in accordance with the Companies and Allied Matters Act, CAP C20, 2004.
STEP 2: Registration of Business with the Federal Inland Revenue Service (FIRS) and obtaining Tax Identification Number.
STEP 3: Registration of the company with Nigerian Investment Promotion Commission (NIPC) for the granting of Business Permit. NIPC also grants approvals for expatriate quota positions and incentives.
STEP 4: Importation of capital through an Authorized Dealer i.e. Approved Bank and obtain certificate of capital importation issued by Central Bank Nigeria.
STEP 5: Apply to the Securities and Exchange Commission (SEC) for registration of interest of foreigners in the shares of the company.
STEP 6: Obtain relevant permits from the relevant specialized regulatory agencies depending on the sector of the company.
STEP 7: Apply to obtain relevant incentives and reliefs available for foreign investors in Nigeria.
In addition to the above, it is important to note that foreigners must also have the permission to work and live in Nigeria. This is in contrast to Tourist or Business Visas which can only be used for initial entry into Nigeria. A company seeking to employ foreigners must apply for Expatriate Quota Approvals which will be used to obtain a Subject to Regularization Visa at a Nigerian consulate abroad. On Arrival, such Expatriate must regularize his stay by applying for a Nigerian residency and work permit otherwise known as Combined Expatriate Residence Permit and Aliens Card (CERPAC) within 3 Months.
Though Nigeria is a welcome haven for both local and foreigners investors, Doing Business in Nigeria comes with certain (regulatory) challenges just like any economy in the world. These challenges are however not insurmountable.
At SIDEBRIEF, we are here to help you navigate the business and regulatory terrain in Nigeria to ensure that you do business with ease. We are capable of assisting you in scaling through the hurdles with respect to starting a business, dealing with all required permits (Federal and State), licenses and approvals, registering property, getting credit, paying taxes, and trading across borders