Whether we are setting up businesses for locals or helping founders build beyond borders. One constant question that has come up in different forms is 'how long will it take?' However, the short and precise answer is that 'it varies' across board. Incorporation timeline varies across the different African countries across the continent. It's often depends on how efficient the business regulatory authority is and also whether the relevant processes have been digitized. Therefore, in our experience, it can take as little as a day to several weeks. Factors that often elongate incorporation timeline include
Regulatory agency backlog
Unnotarized documents
Name disapprovals
Regulated sectors
Unfamiliar laws
Queries
The world bank through the doing business group curated an indicator that shows the average number of days it takes to incorporate a business across 190 economies. We have gone ahead to map out the blueprint for Africa and we hope you find it useful as one of the data matrices to help decide where your next business expansion should be. The map indicates that it takes as little as 4 days to incorporate a business in Rwanda while it takes as much as 58 days to incorporate a business in Chad.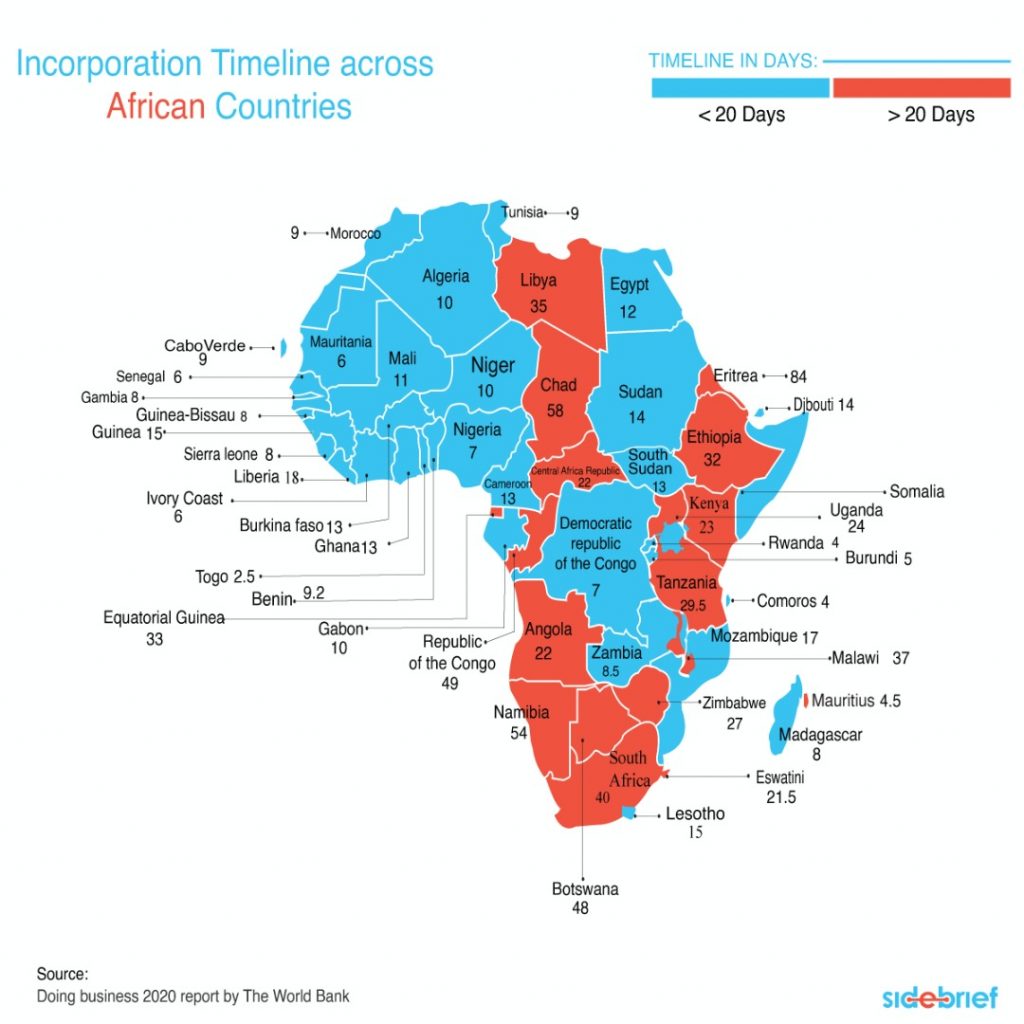 The Sidebrief Experience

Due to data irregularities, the doing business guide has been discontinued; however, the data collected remains the most comprehensive publicly available data repository on doing business in Africa and the rest of the world. The data serves as a good benchmark.

Sidebrief recognizes the importance of data in making business decisions and has been collating data on our formation and compliance activities which we include in our processes to help entrepreneurs and startup founders make better business decisions when it comes to market entry and regulatory compliance.

We are building system that assist entrepreneurs scaling across borders with effective priority mapping. These system will enable founders make sense of huge amounts of data and apply it to scale their operations and profit. We know that almost all business insights and decisions of tomorrow will be data-driven. So, we are incorporating algorithms to help organizations stabilize growth by helping to reduce error rates often caused by biases of human cognition.