If you have been surfing the internet looking for information on how to start a bike logistics business in Nigeria or how to register a logistics company in Nigeria. You are definitely in the right place. Procedure for registration of courier company and requirement for courier services are coming up and we can definitely help you get started.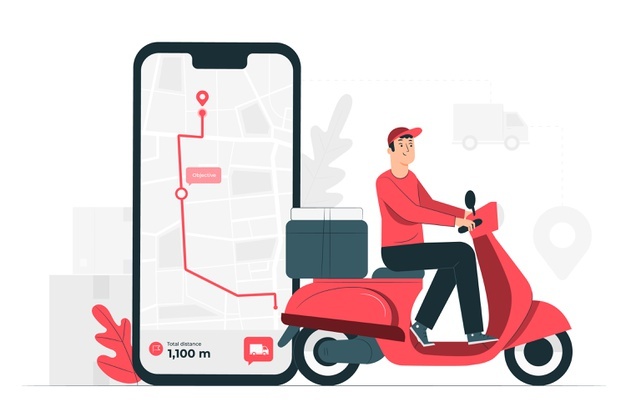 SETTING UP A COURIER COMPANY IN NIGERIA
A courier is a company, an employee of that company or a person who delivers a message, package or letter from one place or person to another place or person. Couriers are distinguished from ordinary mail services by features such as speed, security, tracking, signature, specialization and individualization of express services, and swift delivery times, which are optional for most everyday mail services.
Couriers are usually more expensive than standard mail services, and their use is normally limited to packages where one or more of these features are considered important enough to justify the cost. Courier services operate on all scales, from within specific towns or cities, to regional, national and global services. Courier service companies use various modes of transportation for their delivery including but not limited to bikes, cars, trucks, depending on the size of the packages to be delivered.
HOW TO GET A COURIER SERVICE LICENSE IN NIGERIA
On the 20th of September, 2019, Guardian Newspaper reported how the Nigerian Postal Service (NIPOST) clamped down on some courier companies namely: Efex Express Limited, Westhood Courier Service and Easy Errand Courier service for illegal operations. This is one out of the various reports of how the NIPOST has shut down other courier companies illegally operating, i.e. operating without the required license.
Courier companies are required by law, to register and obtain a license from the Courier Regulatory Department of NIPOST, the body in charge of registering and licensing courier/logistics/delivery companies in Nigeria. This license will enable Registered Courier/Delivery companies carry out their objective lawfully.
The Courier Regulatory Department of the Nigerian Postal Service (NIPOST)
HOW TO REGISTER A LOGISTICS COMPANY IN NIGERIA
The following are requirements to be submitted for registration or grant of courier license. Before a company proceeds to apply for a courier license, it must ensure that the below requirements are made available.
REQUIREMENT FOR COURIER SERVICES
Certified true copy of Certificate of Incorporation;
FORM CAC 1.1 (Application form indicating the minimum share capital of the company which should be Two Million naira)
Memorandum and Articles of association;
Company's Tax Clearance Certificate for the last three years or in the case of a new company, evidence of tax/VAT registration with the FIRS;
Leasehold Certificate or tenancy agreement in respect of the company registered office;
Indemnity insurance policy of N500,000 and evidence of a capital base of N2million or a bond of the value;
Evidence of payment of the license and application fees;
Names, qualification, addresses and telephone numbers of all directors of the company;
Sample of waybills, labels, bags, tags, envelopes, receipt, and registered trade mark (if any);
Partnership, merger, alliance (or such other arrangements agreements (if any); and
Any other information required from time to time.
Application Process
Below are the steps to be taken when applying for grant of license from the Courier Regulatory Department:
Applicant is to forward an application for grant of new license on the company's letter headed paper addressed to the :
General Manager,
Courier Regulatory Department (CRD),
Nigeria Postal Service (NIPOST),
Communications Building,
Lafiaji, Lagos,
Nigeria.
The Application should be forwarded with a non-refundable application fee of N20,000 (Twenty Thousand Naira) only. The payment of application fee entitles the applicant to registration form and Courier Operations Regulations.
The filled or completed application form should be submitted to the above address with the license fee, in Bank Draft of N2,000,000 (Two Million Naira) for domestic (national) courier operations, or N10,000,000 (Ten Million Naira) for international courier operations. The non-refundable license fee should be payable to the Postmaster General.
The Applicant will further make a payment of N200, 000 (Two Hundred thousand Naira) only for administration fees.
The Courier Regulatory Department will then carry out an inspection of facilities in the head office of the prospective courier operator and other five branches. The success of the inspection of the facility inspection entitles the prospective courier operator to a new courier license.
Upon successful grant of the courier license, the operator will be required to participate in an induction and orientation courier course at a cost of N50, 000 (Fifty Thousand Naira) only.
VALIDITY OF COURIER LICENSE
A courier license is valid for a year after which the licensee applies for a renewal to enable it continue operation.
RENEWAL OF COURIER LICENSE
Application for renewal of license should be submitted to the above address for initial processing, at least three month to the expiry date of the license for processing. All required documents along with a copy of the previous license should be submitted for processing the renewal.
SIDEBRIEF
[Insert]