Opening a bank account is an essential step for any entrepreneur looking to start their own business. It's a crucial aspect of managing your finances and ensuring that your business has a solid financial foundation. But for many new business owners, finding the right bank can be a daunting task.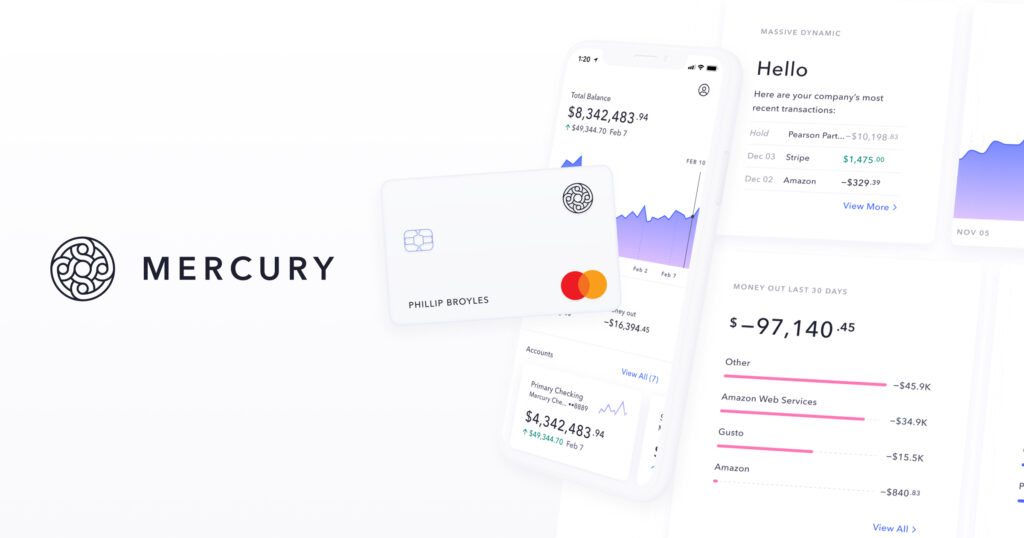 Mercury Bank is a free digital bank platform that provides business banking services simpler, faster, and more accessible to startups and small businesses. One of the biggest advantages of having a Mercury Bank account is the ease and convenience of online banking. With Mercury Bank, you can manage your business finances online from anywhere, and at any time. This can save you time and hassle compared to traditional banking methods.
What You Need to Know Before Opening a Mercury Bank Account
Eligibility Requirements: To be eligible for a Mercury bank account, you'll need your company formation document, identification and an IRS-issued Employer Identification Number (EIN) document. Additionally, your business must be registered, but you don't need to have a physical presence in the US. As part of the application process, you'll be asked to provide personal information about the business owner(s) and signatories, as well as proof of identity and address.
Account Eligibility: You must have a U.S. company with a federal employer identification number to be eligible for a Mercury account.
Types of Accounts Available: Mercury offers two types of accounts for businesses: a checking account and a savings account.
With a checking account, you can deposit and withdraw funds, pay bills, and make transfers. A savings account, on the other hand, earns interest on your deposits but has a lower transaction limit. Both accounts are FDIC-insured up to $5M.
Fees and Charges: Mercury doesn't charge monthly maintenance fees for their business checking or savings accounts. USD international wires are always free for you to send.
Limits and Restrictions: Mercury may impose spending limits on accounts. Cash deposits at ATM access are not allowed but debit cards can be used for withdrawals at ATMs. There are restrictions on certain types of businesses, such as those in the cryptocurrency industry, that may not be eligible for a Mercury account.
Step-by-Step Guide on How to Open a Mercury Bank Account
Step 1: Visit the Mercury Bank website and click "Sign Up". Fill in the information and click "Start Application" as shown below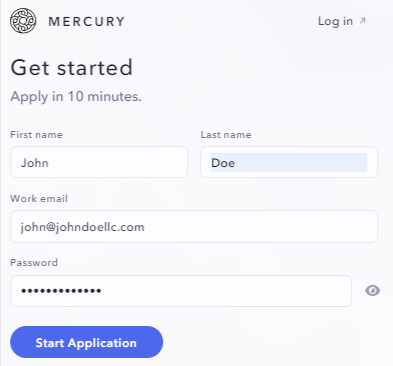 Step 2: Add your company name and your role and click "Next"
Step 3: Choose your team's callsign. A team call sign is a custom URL for your business. If you can't find your callsign, try to tweak it a little bit till you get one that's available and click "Looks Good"
Step 4: Answer the question confirming if your company is in certain regulated industries.
Step 5: Accept the Patriot Act Disclosure and Click "Ok, Let's Go"
Step 6: To continue with the registration, click "Continue".
Step 7: Fill out your company name, company website, legal business name, business elevator pitch, and other necessary information to get your Mercury Bank Account application approved.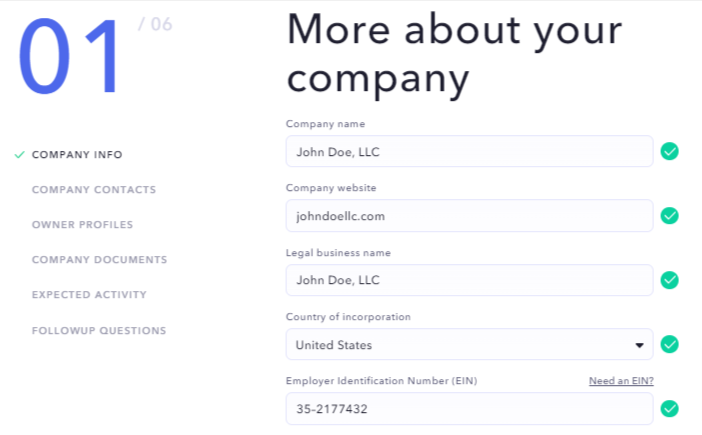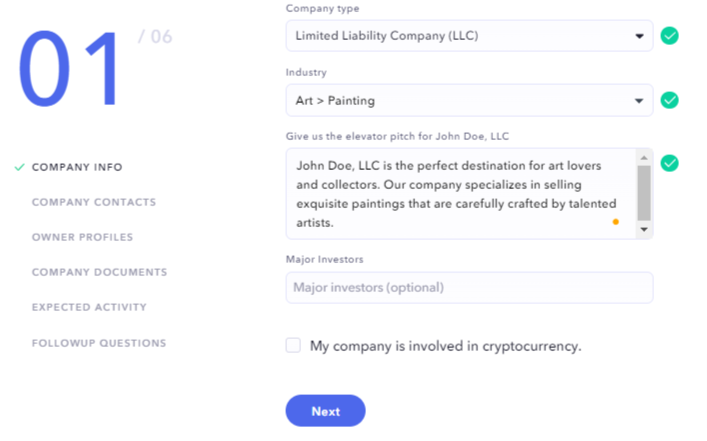 Step 8: Fill out the company contact info and address and click "Next"
Step 9: Fill out the owner profiles if you have a CFO or other Co-founders who has at least a 25% in your company and click "Verify Identity." Personal information, address, identification, and phone number will be required. A selfie also needs to be taken.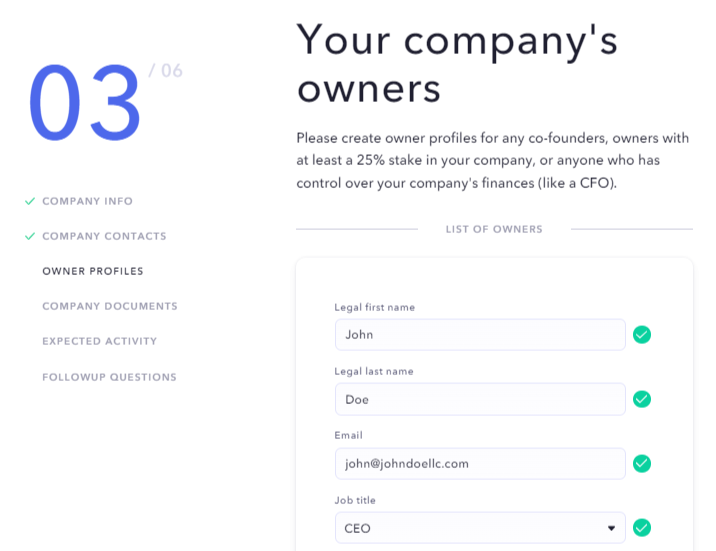 Step 10: Upload the necessary company documents and EIN documents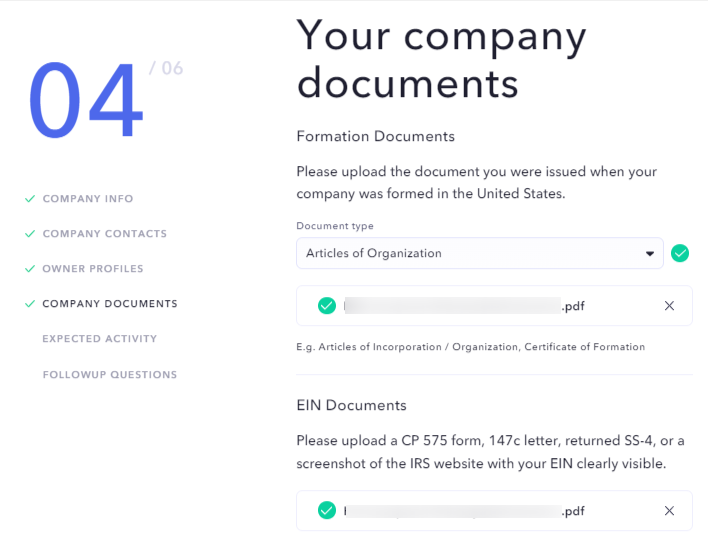 Step 11: Answer the follow-up questions to your satisfaction and click "Review Your Application."
Step 12: Review your info and click "Agree and Submit Application"
Additional Questions For Founders
1. Do you need a US address and number
Mercury asks for the company's address, this needs to be a physical location 
2. Does the fax suffice for EIN documentation
Mercury accepts the following
Letter CP 575
SS-4 Application
Letter 147c
IRS website screenshot
Here are answers to a few Frequently Asked Questions.
Is Mercury a U.S. Back?
Mercury is a Financial technology company and not a bank. Banking services are provided by Choice Financial Group and Evolve Bank & Trust
How do I transfer money from Mercury Bank?
Transfers can be initiated through the Mercury Banking Application.
Mercury Bank Benefits
No monthly fees or minimum deposit is required to open an account.
No overdraft fees and unlimited fee-free transactions.
Free domestic and international wire transfers.
Access to advanced digital tools, including API, to automate and personalize banking.
 Additional Requirements For Business Owners Opening an Account With Mercury
Is a U.S. address and phone number required for a Mercury Bank Account?
Mercury asks for the company's address, this needs to be a physical location so the applicant can use their registered agent's address if needed.
How long should I wait before re-applying, if denied a banking application?
Typically, Mercury advises companies to wait at least 2 months before reapplying after being declined. This gives ample time to establish more operating history, revenue, and financial statements that could strengthen your case for approval.
Does Mercury require any additional documentation?
Address verification is important and this is evidenced by the submission of a utility bill. The Mercury team requires these documents to finalize the account approval.
How long does Mercury wire transfer take?
Wires can take a same day to a few days depending on when the transfer is initiated.
Conclusion
If you're looking for an online bank account that's quick and hassle-free to set up while offering many advantages to small businesses and startups, you should consider opening a Mercury Bank account. With no monthly fees to worry about, competitive interest rates, and a wide range of features and services to choose from, Mercury is an excellent option for you.  It is however important to note that phone support is limited, and support is only available via email on weekends and after-hours. It is not possible to deposit cash into the account. Do you require a US address and phone number, and is tax documentation alone sufficient for obtaining an EIN?